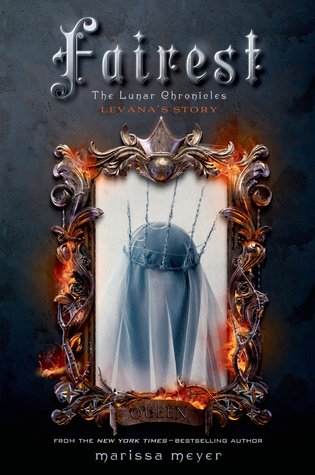 My rating: 4 of 5 stars
I am so conflicted by Fairest. I loved diving back into this world, even if it was just a small snippet. And I liked seeing Levana's story. But truly, this was just a novella.
(Er….warning, some spoilers ahead! But only a little – I think I'm a bit vague, but if you don't like spoilers, avoid this altogether!)
In truth, I would have loved to see this story in more depth with even more detail. But at the same time, I liked this story the way it is.
This was Levana before we see her in Cinder, Scarlet, Cress, and Winter.
My very first impression when I finished the 220 page novella was that….that's it?! No more?!
I won't say that my first impression was that I loved it. Because I didn't. I didn't like that several years had passed (around a decade or so) in the space of 220 pages. It was too much of a skim than something more. And I think, if what I read in Fairest was any indication, then Levana probably could have had a full novel to herself. In some ways, I felt like comparing her to Darth Vader lol, only more of a ….sociopath.
Of late, I really love my villain stories. And I really want well crafted villain. All through the Main Lunar Chronicles series, I had my doubts about Levana, because she seemed so…two-dimensional. And yet, she also had the hints of a deeper backstory, of the why she became the opposition.
Fairest is Levana's backstory. It's the lead up to what made her tick. Truthfully, I would have loved to see this story woven into the main series. But it's nice she got her own book.
What I love about this novella and this villain story, is of course, the making. The making of villain, to me, is more important than anything. And in fact they should probably be even more emphatic than the protagonist. Everyone knows the protag is going to be the good guy, the morally straight compass, the one who wants to save everyone (or at least, inadvertently saves everyone), whereas the villain and the antihero are usually doomed to lose.
Which is why I was excited to read Fairest. (And now, am seriously considering rereading Winter soon – maybe even rereading the whole series again.)
SO THE T H O U G H T S
[1] Story: Meyer weaves the story of Levana's history from when she was a child to early adult hood thereabouts. The only major climax is Levana's realisation that her husband doesn't love her, and that her own thoughts had become so twisted to believe that she deserved everything she had. What I did love about the story was seeing how Levana meander into the depths of well…evilness. I don't like using the word evil. Twisted is better. Yes. This story tells the tale of how Levana became so twisted. And it isn't pleasant. Levana begins as an innocent, naive, somewhat neglected little girl living in the shadow of her older sister. However, she slowly descends into a twisted reality after what her sister did to her – tricking her into burning herself. the scars that mar her, haunt Levana, eating away at her confidence in herself until by the end of the novella, it becomes abundantly clear that Levana is too far gone. She has already convinced herself that she deserves it all, and that she would do anything to get it. Most importantly, Fairest highlights the people in her life that influenced the person she became.
[2] Character: Levana – I would like to say that she is a pitiful creature, but I can't really bring myself to believe it. I feel for her. But I think the biggest impression that was left with me when I finished this novella was the hopeless feeling that this was a woman too far gone. Her mental state, and of course, Meyer's brilliant writing, left me feeling haunted. Perhaps even frightened of this woman that Levana became. And I think, this was something that didn't really translate in the main Lunar Chronicles (there, she seemed less fleshed out, and more shallow). But here, I saw it vividly. How unhealthy her thoughts became after what her sister did to her. And then afterwards, just because she took a kind gesture too deeply, events unfolded into a twisted reality for Levana. Twisted to everyone but herself. To Levana who only wanted to be loved, found what she couldn't have, and rather than leaving as it was, she took it. Made the man her husband. Even though this man…didn't love her at all, and though he resisted, Levana made him. I think, for the majority of this story, I was frustrated with Evret for the way things unfolded. He made several errors – some which he could not be blamed for, but ultimately to which lead to the events after.
As I'm writing this, I can still remember the way Levana acted, and it's kind of frightening. A girl with immense glamour abilities who can manipulate the way you think, who is scarred by her past, physically and psychologically, always lonely, undoubtedly might mistake his actions. It's kind of scary. Especially when Evret was just being nice. He didn't know how psychologically messed up Levana was. And Levana, to ease any guilt she felt about what she did and was doing told herself excuses that eventually she believed. The same way her sister had excused what had happened to her.
So I guess I need to hand it to Meyer for doing this with Levana.
[3] Romance: It's not really romance, but to Levana it is! To everyone else, it's clear that Evret doesn't love her the way she thinks she loves him. It's kind of sad really. I actually really did somewhat feel sorry for Levana, well after I got over the twisted nature of her thoughts, and worked my way through the feeling of I-need-to-get-out-of-this-poisonous-mind. But in many ways, I wish Evret had done something earlier. Except, how could he do that when Levana is the way she is? And this was the problem. I think I really liked Evret, but in the end, he was like the guy with all the bad luck in some horror film who managed to make it through the movie while dealing with the crazy one.


Other T H I N G S
This doesn't have to be read before Winter, but you could and it might enlighten you a little.
I would DEFINITELY have loved to read a novel sized version of Levana's story and did felt like the novella didn't fully do enough justice to the story. Like with Star Wars: Lost Stars, the way this story was told and the feeling I got, just made me feel like it was just a 'filler' and not really a story in its own right. And in many way it is a filler, but still, this is Levana's story.
Is it just me, or did it feel like there was something perhaps…missing? Maybe the thing I feel that's missing might be related to the above paragraph, but still, there is something that just nags at me!

O V E R A L L
An interesting insight to the mind of Levana. Can't wait to read Stars Above.
P.s. Apologies for any typos present!