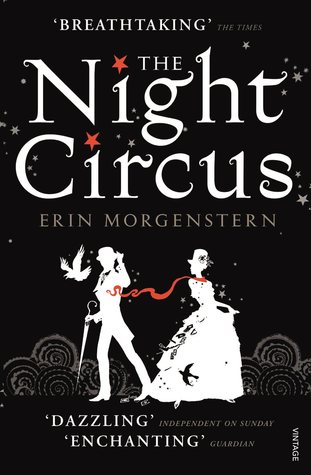 MY RATING: 3 | 3.5 | 3.8. Depending on how I want to look at this story. (And this time, I'm writing three mini reviews based on how I felt, and why I would have rated it 3, 3.5, or 3.8. Since depending on the kind of reader or the shoes I decide to put on, I could have found this book mediocre, or I could have really loved it.)
Buddy read with Woolfie! for the Quarterly Book Club!
In all honesty, I am so utterly conflicted about how I feel about this book! It took me longer to read, simply because I had to put it down for a moment, and read something else. Of course, when I went to read something else, I kind of understand now the difference between this book and others. And also, what separated other more exciting books with this one.
What I do love across all my conflicted rating choices is the 'circus'. I love the Circus in this story, and to me, it was the highlight of the story.
What I absolutely hated across all three ratings is the very fact that the alternating POVs sucked. I didn't like it at all. Morgenstern definitely doesn't write it well enough, nor in a way in which I could appreciate it fully.

I rated this book 3 stars on one level simply because asides from one factor, this book loses its appeal. You get dragged into this 400 something paged book with promises of a dual between two really promising 'illusionists' who battle it out in a circus venue. It's a very promising start, and I must say The Prestige flickered through my mind initially. Of course, thankfully I don't remember much about the Prestige, but one thing's for sure, The Night Circus does not read anything like the Prestige. It's a very disappointing comparison. Asides from a similar sounding premise, The Night Circus and The Prestige are nothing alike! At this rating I can safely say this book is very boring. It coasts for one, does not have enough highs and lows. And You are distanced from the characters, giving you very little space to actually care about them. It also doesn't help that the style is third person and it's written with alternating point of views. I honestly ended the story without caring much for Celia or Marco or Bailey. Didn't really care about any of them!
The Promise of an epic contest, is actually very mild. There's no intensity to the challenge placed on Celia and Marco. The game itself is merely enchanting etc…the details of which you won't find out until the last 100 pages. Although it's the most promoted part of the book, it pretty much plays the smallest role in the book. Which is a shame. I wanted someone to epically fail! (Well I won't tell you what happens at the end, but if you're after a plot orientated story, this isn't it. If you're after a epic battle, this isn't it either.)
 Remember how I said there was a factor that stood out the most? Well, if I am a reader who is simply after beautiful writing, then this was the book that I wanted. When I say beautiful, I don't mean loquaciously elegant, utterly stuffed and dense with metaphoric meaning – that's writing that can and may not always be beautiful if the meaning is obscured by the overuse of language at its finest – I mean that the writing is simple yet wonderfully adorning the pages of my book with some whimsical beauty. It reminds me a little of Lauren Oliver's (Delirium, Before I Fall) writing (of course with the different styles). Even though I felt close to nothing for the non-existent-yet-supposed-to-be-there romance between Celia and Marco, I found something sparkly and enticing in the writing style. I would definitely read another piece of writing from Erin Morgenstern just for the writing!
But of course, under this writing, my feelings about other aspects of the book don't stray far from my 3 star rating. I still can't tell myself that there was chemistry between Celia and Marco. I still feel the duel/battle/challenge between Celia and Marco was over promoted or at the very least wasn't described accurately enough. The emotions just weren't really there in the book. And I really, really, really, hated the alternating POVs. Normally I'm alright with it. But this time, I just couldn't handle it. It infuriated me, irritated me, and seriously, I had an urge to stab the book simply because it was so jarring and choppy and didn't really help the flow of the story at all. SURE, I loved some parts of the alternating POVs, but most of the time, I found the pov switch happened at the worst possible moments.
 This isn't the most perfect book in the world. Yet, I can see why it's loved. I can also understand why others have given it positive 4 or 5 ratings. This book has the potential! If I looked at this with a critical literary eye, I would say, in a way, it's an intriguing piece of ingenuity. What this book is, is not a love story, or a romance, or an epic, or an antihero story, or a magician story. What it is, is a book about a circus, about the people in the circus, about how it became to be. It is a magical thing, full of mystery, and like the way the story is written, it is filled with many tents, not half of them possibly discovered all at once, but instead must be discovered one by one when the time is right for each one.
This is how the Night Circus unfolded.
Morgenstern weaves her story, one chapter at a time. She does not aim to shock or startle her reader with a hook at the end of each chapter. Instead, she just weaves her story, and I'm reminded of Dickens, a little, or Wuthering Heights, those old classics that are always so dense and leave me holding on somehow for weeks simply because I want to finish it. But of course, the writing of the Night Circus is simpler. The tale this book holds is something precious, and shouldn't be read as a romance or action filled novel.
It should be read as a history of the circus, or something similar. Because that's how it unfolds, and to me, I found that the main character in the whole book is the circus itself. In a way, there was a flavour of One Hundred Years of Solitude – not in the magical realism sense, or that Morgenstern had the same way with words as Marquez has, or that the fates of the characters are even remotely similar. What they have similar is this winding tale that lasts for a few decades. Time is and isn't of the essence in this book, so the flow of time in the story is jumpy, choppy, and a pain to deal with.
In my other ratings, I complained a little about the style. The choppiness, etc. Well, under this rating, I can say that the style isn't entirely worthless. A little spoiler. By the end of the book you learn that the story is actually a recount by Wdget (who he is, you'll find out if you go read the book!). Thus, it makes sense that there's a distance placed between him and the other characters of the story since he hasn't been around long enough to know all the history (which also knows at the same because of his abilities). Still. For someone who was so intimately knowledgeable about characters in the book, it is a little unbelievable that there isn't as much connection between the reader and the characters.
In saying that, even at the 3.8 rating, there are cons I can't run away from.
– The story is a coasty. (But then, this can be a pro too if you're after a beautiful story about life.)
– Half the flipping time, I kept getting caught up by the introduction of one character, then the sudden use of 'he' or 'she' ONLY to find that it wasn't referring to the character I'd just been introduced too.
– Choppy alternating POVs.

Late 1800s, early 1900s. Originally set in London, but moves from city to city. The Circus is also the main setting too.

Look. This book is pretty relative. You'll either love it. Or hate it. I liked it. But had my problems with it. The ABOVE is a very sketchy right-this-moment reflection of how I feel after finishing. BUT actually, I'm still not sure how I REALLY feel about this. I like it. But I don't love everything about it. If anything of the above appeals to you, relates to you, interests you, then give this a go?