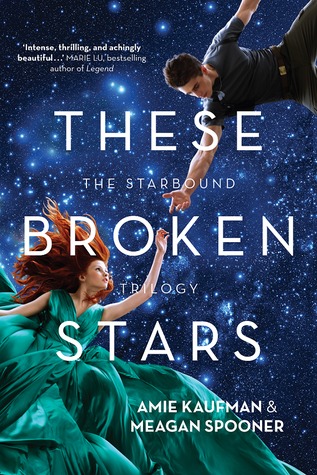 These Broken Stars by Amie Kaufman
My rating: 4 of 5 stars
4.5/idk it's good enough to be 5 stars yet I don't know why I'm holding back!
Really enjoyed this, eyes glued to the pages at that dangerous level of engagement (do not touch or I'll explode kind of intensity).
I can't even explain how I feel right now but this book is a little bit more than just a romance. It's not even really a romance! nor love focussed yet THAT plays such a big role and the fact that there's just two of them. Really….I think I just need to read next book and the last book to really really understand how deep this trilogy will go.
Shucks I can't explain this right now–but I TOTALLY get what Sam's review over at A History of Books refers to now! and I get it. I totally agree with her.
Okay a more coherent examination later. But note: while in the beginning I was reading this out of curiosity and as a recommended book, and expected more love/romance, but by the end, I was in this for the meaning. I was in this for the mystery. I wasn't in it for Lilac and Tarver only anymore (I think if I was, I'd have rated it lower), I was in this for the ending. (Well near the ending part).
U P D A T E

From the above you can see that I ended this book really enjoying it. Hard not to when the climax of the whole novel had me in chills and goosebumps. It was creepy yet it wasn't so creepy that it would keep you up with nightmares. Rather, it was creepy because of the implications. I mean, sure this book is sci-fi fantasy. It's not real. But it doesn't mean it can't be real in the future. Scientists are always wondering and searching the world for the existence of life other than Earth after all.
P L O T
So this book begins with a scene and disaster parallel to that of the titanic. Lilac LaRoux is the daughter of the richest man in the universe and she's on the Icarus, one of her father's biggest luxury spaceliners, for her birthday. Tarver Merendson is a decorated war hero,a guest on the Icarus. There's a little of instalove here, but trust me, it's not really instalove. Anyway, so he meets her for the first time, and unaware of her identity, he shows an interest in her. Just like she shows him (though she knows exactly who he is). But it doesn't take long before she draws a line between them, and makes it clear that he was just a game.
And then disaster strikes. The Icarus is yanked out of hyperspace, and plummets into the nearest planet–Lilac and Tarver just manage to escape in their escape pod which neither had wanted to share if survival hadn't been at the forefront of their minds.
They are the only ones to survive. And yet they hope for rescue. So together they travel across the terrain of the terraformed planet towards the wreckage of the Icarus in hopes of being rescued. After all, the spaceliner of such a big company as LaRoux Industries carrying the daughter of it's head, would be looked for after all right?
The plot is slow going, with very little plot. It reminds me of Blood Red Road, where the beginning of the story is focussed on the main character in search of something. There's a very small cast of people, and it's simply a narrative of their travels, their fears, and their discoveries. Lilac and Tarver, after their encounter on the Icarus dislike each other immensely during the first half of their trek across this unknown terraformed world. Well, they don't really dislike each other, but rather, they dislike the hierarchy that separates them. For Tarver, he just wants to be rescued and off this planet, same as Lilac, so they stick together.
As the journey proceeds, Lilac is the first to be affected by the strange things on the planet. There are whispers, and things that mysteriously appear. As they get closer to their goal, the mystery deepens as they constantly question the existence of this planet…
R O M A N C E
I figured I'd give this its separate section since the premise of my edition heavily implies romance. I quote:
"These Broken Stars is a timeless love story about hope and survival in the face of unthinkable odds.
There is a love story. But it's not hot and heavy, nor is it fast and dramatic. It's slow and accumulating, building over the time that Lilac and Tarver spent together. It's not my favourite kind of love story because it focusses so much on tthe love story. I love slow burning love stories but I don't like books that only focus on love stories (too muvh romance and not enough action sometimes!). And this book, like I mentioned earlier, is focussed on the development of their relationship as they traverse the plains of the terraformed planet, and yet isn't so overdone that I had to roll my eyes and put it down. What I appreciated was the way Amie Kaufman and Megan Spooner develop both Tarver and Lilac. They also develop the relationship between the two characters, giving them more than just an 'instalove' story.
But even though there's a strong love story, I feel like These Broken Stars has actually got a stronger mystery plot. It's a survival story too.
C H A R A C T E R S
Lilac LaRoux is a spoiled rich brat. But I figured she probably wasn't as spoiled as she seemed. (Kind of classic YA.) She was interesting. I liked her character in the sense that I didn't find her annoying. I like that she grows through the book. That she's not above helping out and taking on some of the workload. I should point out though, that in the beginning, Lilac is somewhat pretty insufferable! She seems so spoilt! But she's not really as spoilt as she seems…
Tarver Merendson is awesome. Well as awesome as a guy gets in YA. I mean he's clever, reliable, actually capable of doing things rather than just brooding and being grumpy. But he's a little skeptical–which, I think is a good thing since it gives him that additional dimension. I also feel this book was more his story, since his chapters seemed a lot more substantial than Lilac's!
S E T T I N G
Futuristic world. Sci-fi. Some Terraformed planet.
W R I T I N G
Very nice. Very easy to read. Wasn't overly descriptive, so sometimes I had to stop and reread again to see what I'd missed. But otherwise I did like the writing. This book is also sci-fi, though it's not really a heavy sci-fi. It does deal with things you'd see common to the genre, but I don't feel (at the moment) that it's too much sci-fi. Meaning, even if you don't like sci-fi, you might like this if you like fantasy. There aren't any mind-boggling terms to work your way around, no foreign scientific hardcore jargon to burn those cogs in your head.
Also, this book is written in first person pov.
O V E R A L L
I really wished I'd bought This Shattered World the last time I went to the store. I'd have started reading that now! But well. This book….this book….well if any of the above appeal to you, then give this book a go? That's what I'd suggest! ALSO, I have to say, I LOVE that Amie Kaufman is Australian. As an Australian myself, that makes me go gaga over wanting to read this. And wonder why I hadn't done it earlier!