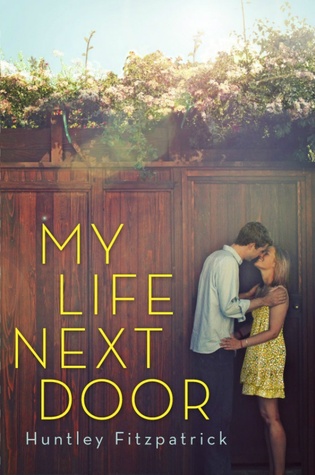 My Life Next Door by Huntley Fitzpatrick
My rating: 3.7 Stars!
I read this for a buddy read with Rinji for the Quarterly Book Club.
I did really enjoy reading this, don't judge me by how long it took me to read because I was also busy with academic work and other books.
However, unfortunately, this book had to compete with Looking for Alibrandi by Melina Marchetta. It's one of my favourite books of all time. While Marchetta's other contemporaries are considered better, Looking for Alibrandi is a classic for a lifetime, and upon rereading it, I really, really, really enjoyed it. AS for My Life Next Door, I think it's a good book–
——> Oh gosh, I sound like one of those old grannies who say 'she's a nice girl' or 'he's a nice boy' but really means, 'that person is just not for you!'
I'm rating My Life Next Door 3.7 stars because it was in fact a really good book that by the end of it had me smiling, and appreciating the story that Fitzpatrick wove, despite the fact that it was grossly overshadowed by Melina Marchetta's book.

The Pros
– Samantha. She has a very relatable voice, and her kind of character is one that I can really understand–she's someone who has never really spoken up before because she wanted to help her mum and suffers under the pressure of Family Obligations. And I never once found her annoying. She has a well defined character with depth to the way she acts.
– Jase. Are dream boy next door. Ideal YA love interest. Since I have little to say about him, because he was almost perfect–training hard every day, works for the family, considering college if he can get in on scholarship, all round, the perfect kind of guy to see in a YA contemporary novel. I liked him. But, in some ways, I feel like he doesn't have an extremely deep character, but yet is still well developed, if that makes sense?
– The family dynamics. I liked seeing the contrast between Samantha's family and Jase's. The reasons behind them, and how they developed.
– Supporting characters. Tim was the best! I loved him as a character the most and I would love to read about him. I mean, really, that guy was awesome. In a way, he kind of outshone Jase (not that I want him to be with Samantha, but in character development terms, he did outshine the boy). Nan. I can't believe Nan, and actually that was something I was kind of displeased with! (More in cons.)
– And wow. There really aren't that many pros.
– Oh wait. Sam and Jase's relationship. I liked it. It was cute. It began pretty quickly, and progressed at a reasonably interesting pace. I like how Fitzpatrick dealt with Sam and Jase's relationship. And I guess their relationship is one of the highlights of book. I should probably say…it's the main highlight, bviously, because it's a romance…
The Cons

– Clay is an atrocious, ambitious asshole who I still felt sorry for. I didn't like him at all but knew from the beginning that he was no good (and the only con is that he's an ass, but the pro about him is that he ended up helping Sam's mum out, so this should also be a pro lol.)
– Jase could sometimes come across as boring…only because he seemed a little too perfect sometimes. Perfect in the sense that he is the dreamy kind of good love interest in YA contemporary novels. He doesn't have many problems, though he does have family ones and also the fact that he's a total family guy….(but this isn't necessarily a bad thing! I think, once again, the love interest in Looking for Alibrandi overshadowed my appreciation of Jase)
– NAN. THE F**K happened there? That TOTALLY sucked. I mean, I completely understood all the reasons why, and so on, but it just felt like a loose tie that wasn't really tied up at the end–I wasn't really satisfied with how they ended up. The only good part was that because of Nan, Tim looked better. But still. Nan and Sam were the weakest part in the whole book–> A Big Angry Dissatisfied Frown Here.
Overall
I did finish this with smiles and liked it all round. I would DEFINITELY go and read the companion/sequel to this because I DEFINITELY want to see more of Tim. The guy is so messed up, I want to know about him. But yeah, the sad part is that I read this while reading Looking for Alibrandi, and Looking for Alibrandi just has a deeper message, a stronger plot, and greater themes for me to relate to than My Life Next Door. That's all. I do suggest My Life Next Door however, as a Suggestive Read, it kind of reads like Sarah Dessen (yes and no), and it's definitely the light and fluffy kind of thing that if I had more time, I'd have read it faster!