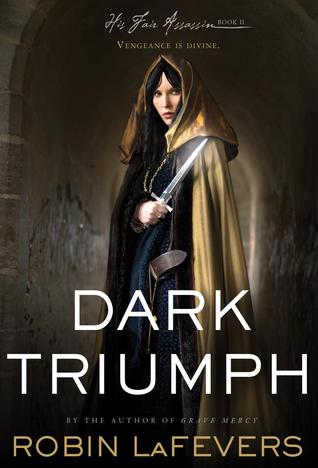 Dark Triumph by Robin LaFevers
My rating: 4 of 5 stars
Read for the 4th Quarter (Historical Fiction) Read for the Quarterly Book Club!
This is also the companion sequel of Grave Mercy, the first of the His Fair Assassin Trilogy.
P L O T

The plot of this story is less like Grave Mercy than I expected. Granted, it has been so long since I read Grave Mercy, I can't even remember the specifics except that Ismae used her body to save Duval (I actually forgot his name too before I started reading Dark Triumph), and then things worked out well in the end. The good thing is, I didn't have many expectations for this sequel/companion novel. Apparently I liked Grave Mercy! But my review of it was sparse and detailess, so anything I really liked, loved or hated is lost in the swarm of a thousand books in my head. The downside of being a readaholic without an eidetic memory (not that I would want an eidetic memory at all–I'd like to be able to forget when I can). However, I rated it pretty good, and what I did write, did not make me any less or any more hesitant to read Dark Triumph. I think, even back then I really wanted to read Sybella's story, mainly because she seemed so unreachable, not like Ismae who seemed so full of hope and belief and faith.
So where Grave Mercy had a more substantial plot about the world and its historical elements, Dark Triumph tends to read as a more solo, individual journey of self for Sybella. Yeah there is a plot, but not as much as the first in my opinion (or from the vague feelings I remember). In this book, the main plot is very simple. Defeat d'Albret. Help the Duchess. That kind of thing. Two sides clearly defined, and a war for Brittany. The historical elements are well tended to (I'm not a historian and have never studied history, but I do like my historical fiction novels every once in a while, and a variety at that–though usually stories older than the 20th century.)
The plot also while it is very simple, it actually doesn't fall flat. I felt the urge to keep reading (and yeah, stayed up to like 2:30am in the morning (continued reading from like 160pages at around 11pm) to finish it all in one go (gawd I am so tired right now, I wonder why I haven't had several micronaps by now!). Mostly, I think I was interested in when Sybella would do two things: a) Get the man; and b) kill d'Albret. I was also wondering exactly what would happen to her family, and what had happened to the family to make it so bloody twisted!
But as for the actual other non-Sybella, and non-romance parts, there weren't actually many elements to the political plot. Like I said, it was very simple. It makes me wonder how the ending will look like in the last book.

C H A R A C T E R S
Sybella! I loved her! But only because she had such a deep character and was twisted in her own way, supported by all the dark events of the past. I hate her family though. But they did shape her. And I felt sorry for her a lot of the time, but she never wallows in self pity, and she does her best to keep trying. I liked seeing how she thinks when it comes to her family. Even though it's all a little sickening, I liked seeing how she stays strong even when she knows she should be afraid. Loved when she had to help the Beast escape. That was funny, specially when she woke up! And while some might go and hate and be stupid, I like how Sybella does her best to put her fears aside and go with the flow. She's a strong character, totally kickass, and not afraid to kill, even though she doesn't always want to. And when Ismae comes back into the picture, Sybella really contrasts to her, in terms of personality. They're similar and different at the same time.
Beast. Oh the Beast. Described as ugly, but really, overall has a really nice personality. And I liked him! And I love that Sybella notices how even after they sleep together, he doesn't look any prettier (I love how normal that sounds, rather than the usual flowery, he looked beautiful even though he was ugly crap). Beast is Beast. He is scarred and considered ugly, but he is beautiful deep down. Which his actions show, and there's no need to dress up his ugliness in pretty descriptions. If that makes sense? I just liked how LaFevers depicts Beast. And also depicts and develops his relationship with Sybella.
THE D'ALBRETS. Gawd. That is one twisted family. Only the sisters are harmless. Being young and isolated, protected from the merciless elder brothers and their father. Sybella is a d'Albret, but she hates that she is. And she hates remembering it. Yet, she is, and because she is, she must use it to her advantage for the convent. Her older brothers are asshats. And Julian, her older brother too I think, but like with her other siblings, is a half brother, was both someone she loved and hated. The relationship between them is….well….a bit incestuous, and at the same time….and I hate saying it, but the ending at the end, resolves it and makes me feel abit better. Then again, how LaFevers treats the whole family dynamic, she treats its carefully and thoughtfully. She puts all the necessary emotions in there so that one should feel how Sybella feels about everyone and everything related to her family. There is so much hate there, and there is also, so much she wished she hadn't done. Sybella's father though, is the worst out of all of them though. He's cruel and callous, and he doesn't care who he uses, hurts, in order to get what he wants: and that is the Duchess's hand in marriage. I think d'Albret is based on a real historical figure. I'm not too sure, but well. LaFevers did well with being creative with this whole period of history.
Supporting characters and return of the old. Loved seeing Ismae and Duval again! That was awesome! They're so cute together. The Abbess has me frowning as always. And we hear about Annith again!
S E T T I N G
Morlaix, Nantes in Brittany.  Year: 1489

W R I T I N G
I can't remember what I thought of LaFevers' writing previously, but I enjoyed reading it last night! Maybe it was Sybella, or maybe I just needed this kind of writing at that moment. Either way, I did really like her writing. Written in first person, LaFevers mixes both historical language and contemporary language well. The style of writing has a taste of formality to it, yet isn't dense and a pain to read. Which was beautiful. I almost cried (after all I did lament a bit about this when I was reading the Witch Hunter). It was great. I loved it.
O V E R A L L

I really enjoyed this one! Though now after writing all of the above, the ending while it was nice, I was already happy a few pages before the end of the book lol. Anyway, yes, a suggestive read. And looking forward to Mortal Heart.