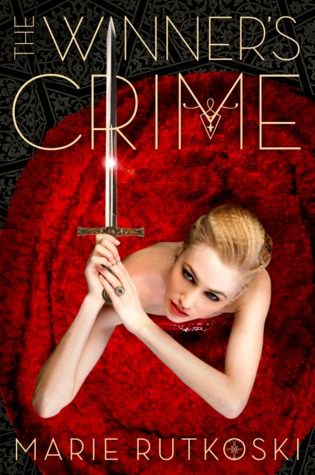 The Winner's Crime by Marie Rutkoski
My rating: 5 of 5 stars
Oh so I finished this a few hours ago, and much like the first, I was in love with it. Not to fall into all the hype I initially didn't read the first book because I didn't trust the hype. And now, I did, so glad I bought this book on a whim, because I don't know what I would have done without it. I just seriously crave the last book now.
(Okay so keep in mind I did write this actual review a few month back–May 2015 to be exact but I've only just got round to posting it here on Words That Flow Like Water >.> I should probably be more in sync about these things, but then again, oh well!  Anyway!  This, what is written here, is and was my first impressions right after I finished Winner's Crime, which if you can't tell, I really, really loved.)
I have pondered on why I like this series so much. I have figured it out: I don't know. It just has the awesomeness that I only reserve for a particular kind of books.
You see, I don't love overly dramatised books. I like it better if it feels real. I don't love romance plots only. I like it better if the romance is only a subplot and instead the main characters must deal with their own problems first. I don't love war books from the sidelines. This book isn't really 'war' but it also is. Kestrel is at the centre, and she's in a place of power. Power to make or break a country. Even if it seems like she's only surrounded by pretty things and balls and high society. But this was the life she was born in, and it's no different to a historical. I really despise historicals that have a much too modern character at the centre of the story. I like Kestrel. She follows her rules, and also bargains with them. She is for maintaining her reputation, whilst playing the game of high society. What I like, is that at the very base of her decisions about how she acts in society is her relationship with her father.

Which brings me to:

[ 1 ] What will happen now to Kestrel and her father after what happened at the end of this book? I was so torrrnnnnnnnnn by the decision. I totally understand the power play here, understand the reasons, but still I can't believe it happened!
[ 2 ] What will happen now between Kestrel and Arin (Well actually I can guess, it's obvious that they should end up together at the end of the next book. If Rutkoski breaks this trope, then I shall be very surprised!)
[ 3 ] What will happen now between Kestrel and Jess? I am totally unsatisfied and wretched about what happened between them two. I feel like nothing was explained! And my rating should lose stars for that. But yet, on the whole….it was just too good.
[ 4 ] The ending. Omg the ending. Funny, it's a very simple ending, yet it has me going 'omg omg omg'.
[ 5 ] I suspect something between Verex and Risha.
[ 6 ] I will admit, Arin was a bit of a sob sack in this, but at least he was feeling something. He just needs to keep his head screwed on straight and read between the lines. Kestrel is strong in her own way. But she likes the political game too much. I liked seeing how she went through this one, felt the way she was crumbling under the pressure of the game. I always did like a book where there's a strong and heavy game of politics in play, specially in a situation like this.
[ 7 ] If you loved the first, you'll love this one even more. There's no book that walks you over the edge in terms of intensity and politics like this one does in YA. There's just no YA fantasy that matches up. Not even Throne of Glass.
[ 8 ] A Suggestive Read of course, and also, I want the Winner's Kiss right now.
The Winner's Curse.  Marie Rutkoski// @Wordsthatflowlikewater