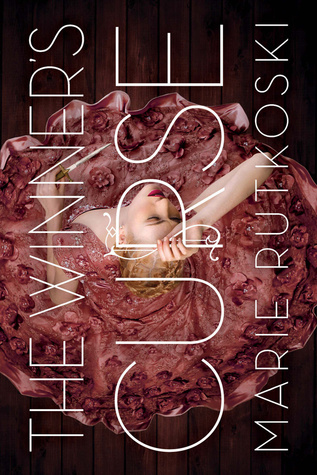 The Winner's Curse by Marie Rutkoski
My rating: 5 of 5 stars
First: Buddy Read for the Quarterly Book Club! with Kate!
Second: I did not think I would be rating another book at 5 stars any time soon.
Third: This reminded me of historicals about Kleopatra Selene/Marcus Antony/Ancient Rome (Generally the ones I read are related to Kleopatra Selene). It's orientated towards 'war' and I do like my war fiction every now and then.
Fourth: Loveeeeeee Kestrel. You know there aren't many main protagonists who are genuinely smart and are written well enough that they can get away with it without seeming like a Mary Sue. Some writers don't capture it well, and it usually goes wrong. But Rutkoski does. She gives Kestrel the time and thought process in order to seem clever and a master strategist in her writing, which strengthens and defines Kestrel's character in the book.
Fifth: The setting is an easy to visualise setting. Meaning it's pretty standard, familiar, definitely something you would see in the history books. One or two things had me wondering but not enough to knock off stars.
Sixth: No instalove. BIG BONUS. Instant love, even lust irritates me when I'm not in the mood. So I love the beginning of the novel. It builds. Everything builds in this romance, and then it's not longer just a romance. It's a love story. You have Kestrel. You have Arin. If I reference back to Lily of the Nile, it's like Kleopatra Selene, and her imagined/real possibly, political relationships. It's all about power. Even though, it's also about love.
Seventh: The writing is easy and well crafted–definitely more literary aimed than a lot of other books. I was very caught on the creativeness of several things. By literary, I mean there are motifs, signs, not just the kinds that you see in mystery novels. No. There are other things. Things that repeat, things that reflect the characters and their personalities, as well as foreshadow a little what might happen later.
Eighth: I know this is a strange one, but a fantasy without powers, now THAT'S something different! You don't see it often, but I sure as hell loved it.
Ninth: Even though it seems like nothing much was happening at the start, THERE was DEFINITELY a lot happening at the start. But by a lot, I say it's the build up. The hints, the subtleties, in particular in relation to Kestrel's character. You slowly begin to see her tick. And THAT is the most important thing in this story. Because how the characters think, will, I'll bet, count for everything later on in the book and in the trilogy.
Tenth: Gorgeous cover, great book. I think this speaks for itself.
Eleventh: The plot is relatively simple, but in a way it's complex too. It's not just a conquer the land over your enemy story, but rather, a battle of wits and strategy. Hence why I think back to historicals about Kleopatra Selene.
Twelfth: I wonder why I didn't suggest this as a 1st Quarter Quarterly Read?
Thirteenth: Friends in the story aren't just tossed aside. They're remembered and are significant to the story.
Fourteenth: I guess the same can be said about Kestrel's father, and for other key supporting characters.
Fifteenth: I liked Arin. His story isn't centred around Kestrel, he has his own story, and like Kestrel, he feels the same heightened emotions.
Sixteenth: I read this is one sitting. I usually don't. Specially if it's more than 250 pages and I have things to do. But today I made TIME for THIS. Which seriously has got to say something. And you know I'm glad I randomly picked this off the shelf, same with The Winner's Crime, but dayum, why must I wait a year for the third??
Seventeenth: Also, despite how much power is thrown around because she isLady Kestrel, even she has to face the consequences of her actions.
Eighteenth: More detailed review a little later (maybe), but DEFINITELY a Suggestive Read.