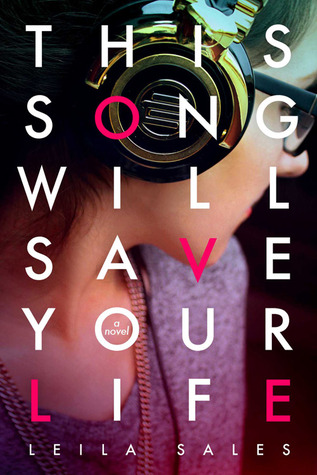 This Song Will Save Your Life by Leila Sales
My rating: 4 of 5 stars
This is also a Quarterly Book Club read for the 2nd Quarter of 2015 (though I didn't read it then)
This song will save your life more like, this book has returned my faith. I will not lie, I have been struggling with book after book after book lately. It seems, no matter what I'm reading I just can't fully get into it. Of course, I could tell myself it's the fact that I have academic work, so obviously that's the reason why. But no. That wasn't it. Since my bookshelf is piling up more and more with books to be read. It wasn't until the other day, a few weeks back did I notice something extraordinary.
There was not a single book from the library that was not fantasy, paranormal or supernatural. So I started craving something normal, something contemporary and truthfully, I thought my desire had passed when more books came from the library.
Except. The book I was and still am reading for the Quarterly Book Club, has yet to fully engage my attention even though I've been reading it for over a week now. But asides from it's daunting size, I just still can't get into it.
However, I picked up This Song Will Save Your Life on a whim, after it came from the library, for a change. And while the beginning was a bit shaky, the minute I got into Elise's story, I was succkkkkeeeeedddd in.
And that, ladies and gentlemen, is how I discovered that I have been DYING to read a contemporary novel. It's like being stuck in the desert with no water, and not realise just how thirsty you become until you're drinking the water!
Reading this, as the first contemporary novel since like November last year, had me wanting to read more. I flew through this, quickly and easily, and while my judgment is a little impaired, I did, truly love this book and I think it DEFINITELY deserves it's four star rating.
Why?
The Plot is centred around Elise and her issues with herself. At the beginning of the novel, we're treated with an insight into just how deep her problem went. She even went so far as to cut herself. The rest of the novel takes place some time after the incident, and follows her road to liking herself through finding her passion in DJing.
Overall, it was a well put together story. Since I haven't read other contemporary novel for a long time, and my head is full of the fantasy worlds that fantasy and supernatural based novels inspire, it'll be a little difficult to really praise this book. I don't want to over praise YET this is how I feel like discussing it. In my head, right this moment, I think this novel was brilliant.
I liked that although this story is about suicide, it is more about how she gets over it. Since to begin with her suicide had been an experiment, and right after she did it, she already knew she didn't want to die.
I liked that while there is some romance in this, it's not really romance. Rather, it's kinda like a first time experience thing. There's this hot guy. There's the first kiss. There's the first making out. But that's it. And when it ends, even though it hurts Elise, and happens at the moment when she needed it least, I like how it leads to Elise truly seeing and feeling how much her friends do care about her.
I liked that a strong message in this novel is that it's not about being popular, but about liking yourself, and also knowing that the friends around you like you for you.
I'm not an expert on DJing and what not, but I liked Elise's stepping up into a world where she was doing something she loved.
There was so much I liked about this book, I have barely any things I didn't like. Except yet, I didn't give this book a full five stars. This is because there were some things. Some times I felt like some issues weren't covered fully. Most of the suicide problem for Elise was mainly dealt with by her, though there was engagement between her and the parentals, but I just felt it was slightly off. HOWEVER, I did not feel like this was a major concern, it certainly didn't bother me as I read it. And the other thing, the romance, I mentioned it before, but while I think her relationship witch Char was plain and set in a way where it was evident they would eventually break up, and though I actually really liked it, like I said, it's not really a romance at all.
The Characters, who I really wanted to add in the section above, I did not because they deserve their own section.
Firstly, Elise has a really relateable voice and for someone who attempted to suicide, she's also quite strong. It's kind of a contrast, I feel, yet reading from Elise, I liked her. I really did.
But more so, I liked her and Vicky's friendship. Even though Vicky and Pippa were just a pair of girls she randomly met, they grow on her, and also, they grow on me. I liked Vicky a whole lot more of course, but this might be because we didn't see as much of Pippa as I would have liked.
Seriously though, when Elise and Vicky bantered, it was awesome. And you know, I really liked Vicky's story. I think it was great. I think too, that she's a great friend for Elise.
Char, was, without a doubt kind of a dick — scuse my language — but he's the kind of guy who just doesn't really care. He's not like mean broody kind of guy. He was actually nice, but he kept making mistakes and was a little bit of player and well, truthfully, just like an every day average guy, specially when Elise asked him about Pippa, and he said, 'because she's hot'.
The parentals play a nice key role in this story, I liked seeing them.
And the cast of minor characters, at Elise's school — they were….interesting, and I liked how well formed they were. None were useless, so that was a plus, and all had a role in Elise's life that was NOT pointless added in.
Overall I would definitely recommend this book as a suggestive read, specially if you're like me and have been reading too much fantasy and paranormal and supernatural and have gotten into a reading funk because of that, and you DEFINITELY need a change. I will also now be going on to read any of Leila Sales' other books that catch my attention.