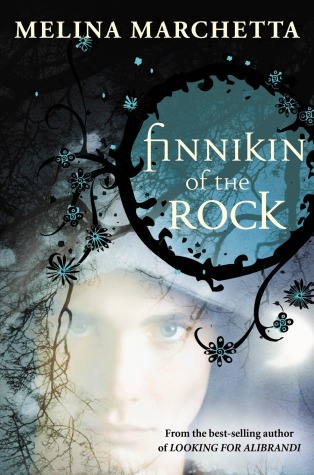 Finnikin of the Rock by Melina Marchetta
My rating: 4 of 5 stars
This will be a brief opinionated piece. Read as a Choice Read for the first Quarter Read for the Quarterly Book Club!
Plot: Based on the premise, predictable in an all out high fantasy manner. I guessed Evanjalin's secret in the beginning. And the lack of discussion about her true secret (about her history) was interesting though. It makes sense when I think about her character's history. For someone not noticed often, it was no surprise. But yet, the absence of it, made it kind of easy to predict the answer. Plotwise, pretty standard and predictable, but that wasn't the highlight of the story. The highlight of the story is reading of Finnikin and Evanjalin's traipse across countries and territories to return back home to Lumatere. Now THAT was the best part. And I think this kind of story is what Melina Marchetta is good at telling.
Writing: I'm used to stories by Melina where she weaves an intricate yet heartfelt story about the characters involved. Everyone is important and all their feelings are dealt with adequately. There is never a word wasted. Although I had no opinion on Finnikin to begin with, it was perhaps Marchetta's writing that brought me to love him as a character. Same with Evanjalin. Marchetta has that magic in her words. The way she wrote Finnikin of the Rock however, is different from her other novels. This is told in true High fantasy style, from third point perspective, and not at all in a manner that can be mistaken as 'first pov but using third pov stylings'. No, this was a story. Marchetta wove a tale here, a tale of Finnikin of the Rock and how he deals with the words laid upon his head.
"His seed will issue kings, but he will never reign."
Marchetta writes, like always, a story of discovery for her characters. There are dull moments, and raw moments, and painful moments. You read this for a story about Finnikin. Although I classed this as romance, the romance here is both essentially yet the side story of Finnikin of the Rock. It is essential, because it is partially responsible for his development as a character. It is a side story if you think about the plot.
Furthermore, Marchetta's writing is detailed, and instantly draws you into her world. There are plenty of descriptions on the location and environment. Some of it was a bore to read through, yet other times, you can't pull your eyes away because here it is. This land she presents and this world that Finnikin and Evajalin live in.
Characters: I hate to compare, but like always, the characters Marchetta brought to life in Finnikin of the Rock, they are as complex as her characters in Looking for Alibrandi, On the Jellicoe Road, Saving Francesca, and The Piper's Son. Oh yes, if you can't tell, I'm a huge fan of her work. And as always, I am not disappointed by her beautiful words and her wonderful characters. Finnikin, you really are a great fantasy character. Alike and not alike the others I've seen. Evanjalin, I'm glad this wasn't written from your perspective. Because I enjoyed your character better from Finnikin's. She had some funny moments, and there were times when I was frustrated with her, because Finnikin was frustrated with how she acted. Specially the scenes involving Froi, Finnikin, slave traders, a ruby ring, and horses. Oh and did I mention the part where Evanjalin sold Finnikin out and let him to be imprisoned before she rescued him. But then, she did that because his father was imprisoned too, but yet, from Finnikin's perspective, it was all really quite outrageous. I lived for those moments, because really, the interactions between Finnikin and Evanjalin were really enjoyable.
Overall: I would definitely read the sequels. Definitely want to know about Froi's story. I would recommend this for other lovers of high fantasy purely because it is a good read, and it really is worth reading.